A weekly video game & movie podcast with new episodes every Monday just for YOU!  Enjoy the show 3 days early at Patreon.com/joygasm Geek out with Russ (Xbox Live: T0ASTER360) and Steve (Xbox Live: Stevavitch) as they banter on video game & movie industry news, share hands on impressions of their gaming adventures on Xbox, Playstation, Nintendo, and mobile, provide in depth movie reviews, and discuss trending pop culture topics. If you crave pixel goodness, memorable moments, and experiences that make your inner child do the happy dance, you've come to the right place. Welcome to Joygasm – A Video Game & Movie Podcast!
01.

 Game On

We heart gaming.  Joygasm is our platform to geek out and share with you our wonderful interactive adventures be it on Xbox, Playstation, Nintendo, or mobile.
02.

 Emotional Experience

The next best thing to being told a great story is to geek out about it afterwards.  Joygasm loves to review & analyze Hollywood visual storytelling.
03.

 Geek Life

Exciting news and amazing creativity means there's never a dull moment.  Whether it's comic con, the hottest new collectible, or community events, we love to chat about it.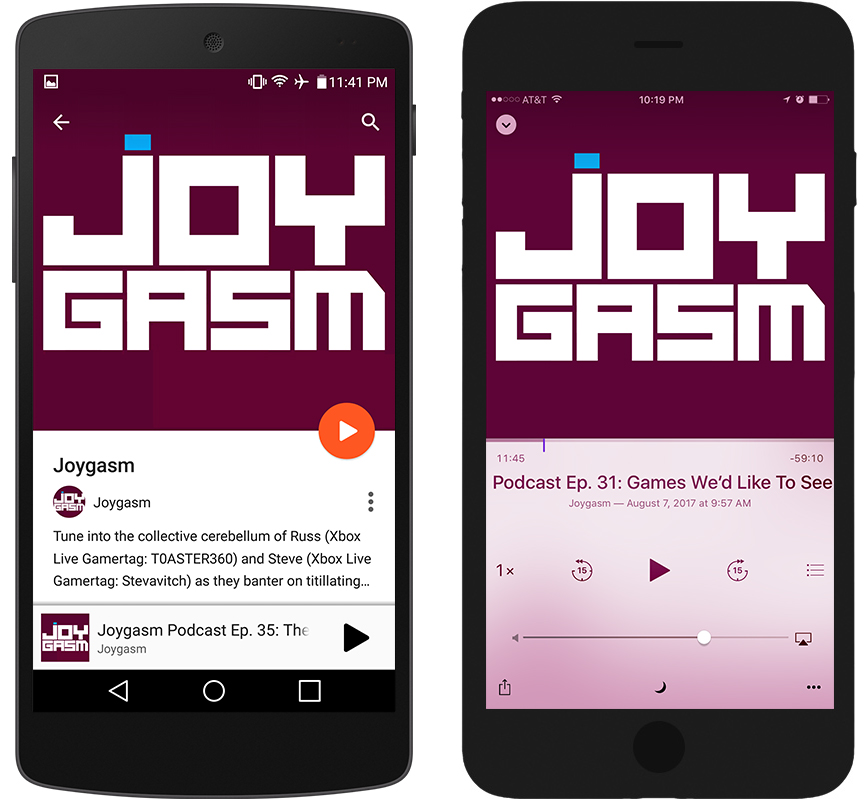 Join us...it is your destiny.
Support  Joygasm on Patreon!
JOYGASM YOUTUBE PODCAST VIDEOS
Subscribe to Joygasm
Joygasm Podcast Ep. 185: Sony State Of Play August 2020 Impressions & More
Joygasm Podcast Ep. 184: Ghost Of Tsushima Impressions
Joygasm Podcast Ep. 183: Xbox First Party Games Impressions
Joygasm Podcast Ep. 182: Ubisoft Forward 2020 Show Analysis
Joygasm Podcast Ep. 181: Warner Bros. Interactive Is For Sale
Joygasm Podcast Ep. 180: Sea Of Thieves: Haunted Shores
Joygsam Podcast Ep. 179: Cyberpunk 2077 Night City Wire Reactions, RIP Mixer, & More!
Joygasm Podcast Ep. 178: EA Play Live 2020 Reactions
Joygasm Podcast Ep. 177: Sony PS5 Console & Games Reveal
Joygasm Podcast Ep. 176: Walk Hard - The Dewey Cox Story Movie Review
Joygasm Podcast Ep. 175: Space X & NASA Make Historic Launch
Joygasm Podcast Ep. 173: Unreal Engine 5 on PS5 Impressions
Joygasm Podcast Ep. 174: Bioware Working On Anthem 2.0
Joygasm Podcast Ep. 172: Inside Xbox Next-Gen 3rd Party Games Impressions
Joygasm Podcast Ep. 171: Streets Of Rage 4 Impressions, Joygasm Turns 3 Years Old, & More
Joygasm Podcast Ep. 170: Legends Of Runeterra Impressions
Joygasm Podcast Ep. 169: Overwatch Echo Character Impressions & More
Joygasm Podcast Ep.168: 2020 Next Gen Predications Part 2
Joygasm Podcast Ep. 167: 2020 Video Game Predictions
Joygasm Podcast Ep. 166: Resident Evil 3 Impressions & More